Carola Moujan - Art, design & research
Exclusif Voyages, 10 ans
2009
Design, art direction, illustration, animation, project management.
Website
Client : Exclusif Voyages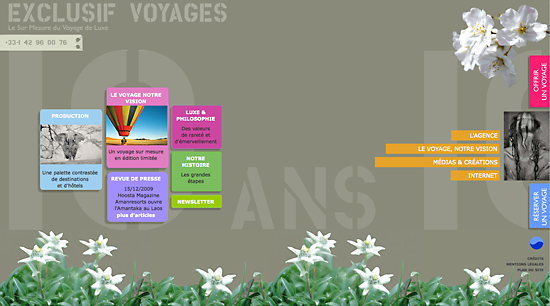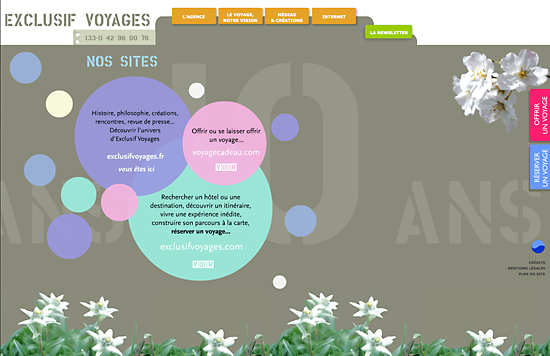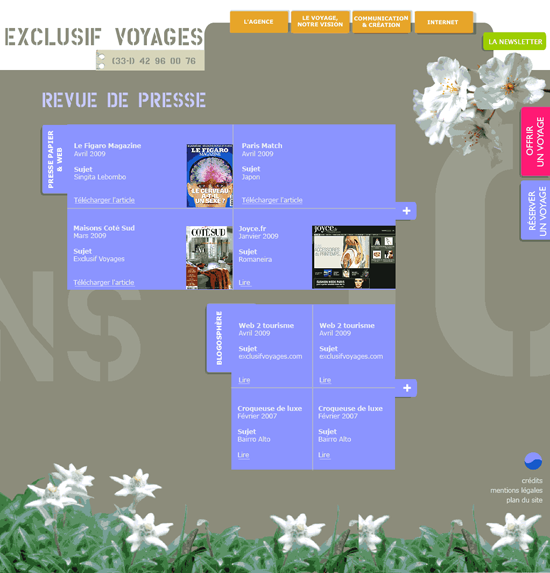 [EN]
Exclusif Voyages is a Parisian travel agent and tour operator specialized in tailor-made luxury travel.
In 2009, the company commissioned me to design a special website to comemorate their 10th anniversary.
Rather than focusing on the destinations catalog (already presented on another website, exclusifvoyages.com), the accent was put on conveying their unique vision of travel as a source of exceptional experiences.
[FR]
Exclusif Voyages est une agence de voyages et tour opérateur parisienne spécialisée dans le voyage de luxe sur-mesure.
En 2009, l'entreprise m'a chargé de concevoir un site web spécial pour commémorer leur 10e anniversaire.
Plutôt que de nous concentrer sur le catalogue des destinations (déjà présenté sur un autre site, exclusifvoyages.com), l'accent a été mis sur la transmission de leur vision unique du voyage comme source d'expériences d'exception.
[ES]
Exclusif Voyages es una agencia de viajes y tour-operadora parisina especializada en viajes de lujo a medida.
En 2009, la empresa me encargó el diseño de un sitio web especial para conmemorar su décimo aniversario.
En lugar de centrarnos en el catálogo de destinos (ya presentado en otro sitio web, exclusifvoyages.com), pusimos el énfasis en transmitir su visión única de los viajes como fuente de experiencias excepcionales.