Carola Moujan - Art, design & research
Future Forest Diorama en Can Balasc
2022
Artist Book
Limited edition of 50 numbered copies
ISBN 978-84-123295-5-1
Spanish, 80 pages
Edited by
La Escocesa
Distributed by
Belleza Infinita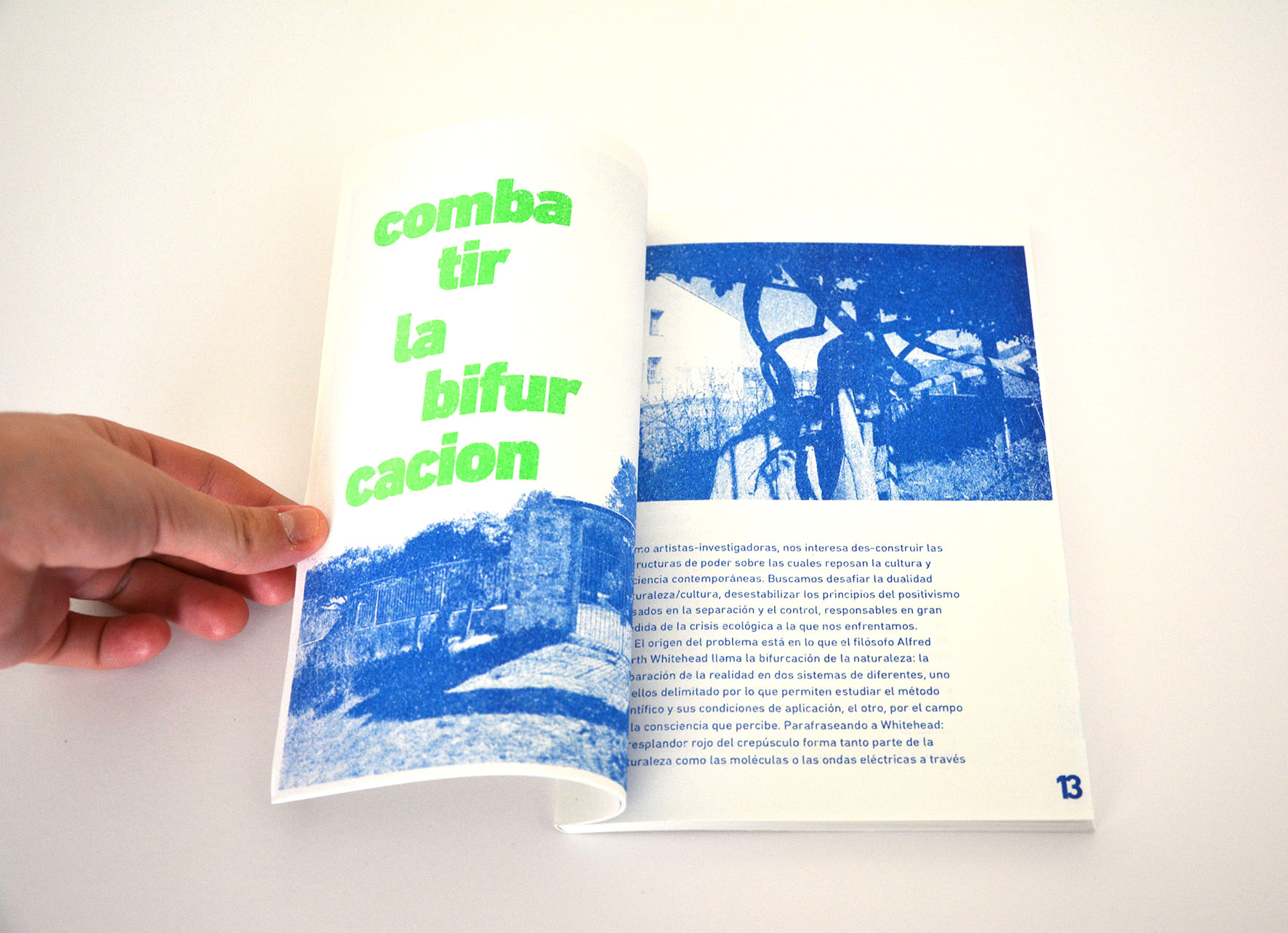 [EN]
This book is the synthesis of
Future Forest Diorama
, an artistic research project developped in collaboration with Agustín Ortiz Herrera at the Can Balasc experimental station at the
Sierra de Collserola Natural Park
(Catalonia - Spain).
Through the 80 pages of the volume, the text collects in a non-chronological order the concepts, ideas, materials and experiences that shaped the process, while the images and printing technique (risograph) aim at conveying the place's unique atmosphere.
Comprised of two main sections separated by an interlude where we describe step by step how to build a terrarium, the first section presents and develops the key concepts that structured the process, while the second offers a methodological reflection on research experiments at the crossroads of art and botanics.
[FR]
Ce livre est la synthèse de
Future Forest Diorama
, project de recherche artistique développé en collaboration avec Agustin Ortiz Herrera entre mai 2021 et mars 2022 dans la station expérimentale de Can Balasc du
Parque Natural Sierra de Collserola
(Catalogne).
Au travers des 80 pages qui constituent le volume, le texte compile de manière non chronologique les concepts, idées, matériaux et expériences qui ont façonné le processus. Le choix des images et la technique d'impression (risographie) visent quant à elles à restituer l'atmosphère unique du lieu.
Composé de deux parties principales séparées par un aparté où l'on décrit pas à la construction d'un terrarium, la première présente et développe les concepts-clé qui ont structuré le processus, alors que la deuxième propose une réflexion méthodologique sur les expérimentations de recherche à la croisée de l'art et de la botanique.
[ES]
Este libro es la síntesis de
Future Forest Diorama
, proyecto de investigación artística desarrollado en colaboración con Agustín Ortiz Herrera entre mayo del 2021 y marzo del 2022 en la estación experimental de Can Balasc, situada en el
Parque Natural Sierra de Collserola
(Cataluña).
A lo largo de las 80 páginas que constituyen el volúmen, el texto recopila de manera no cronológica los conceptos, ideas, materiales y experiencias que constituyeron el proceso, mientras que las imágenes y la técnica de impresión buscan restituir la atmósfera característica del lugar.
Compuesto de dos partes principales separadas por un interludio en el que se describe paso a paso la construcción de un terrario, la primera presenta y desarrolla los conceptos clave que estructuraron el proceso, mientras que la segunda propone una reflexión metodológica sobre los experimentos de investigación entre arte y botánica.