Carola Moujan - Art, design & research
Les chemins du Monde-Vie
2009 and 2018
Artist book, exhibition.

Folded book & interactive CD-Rom.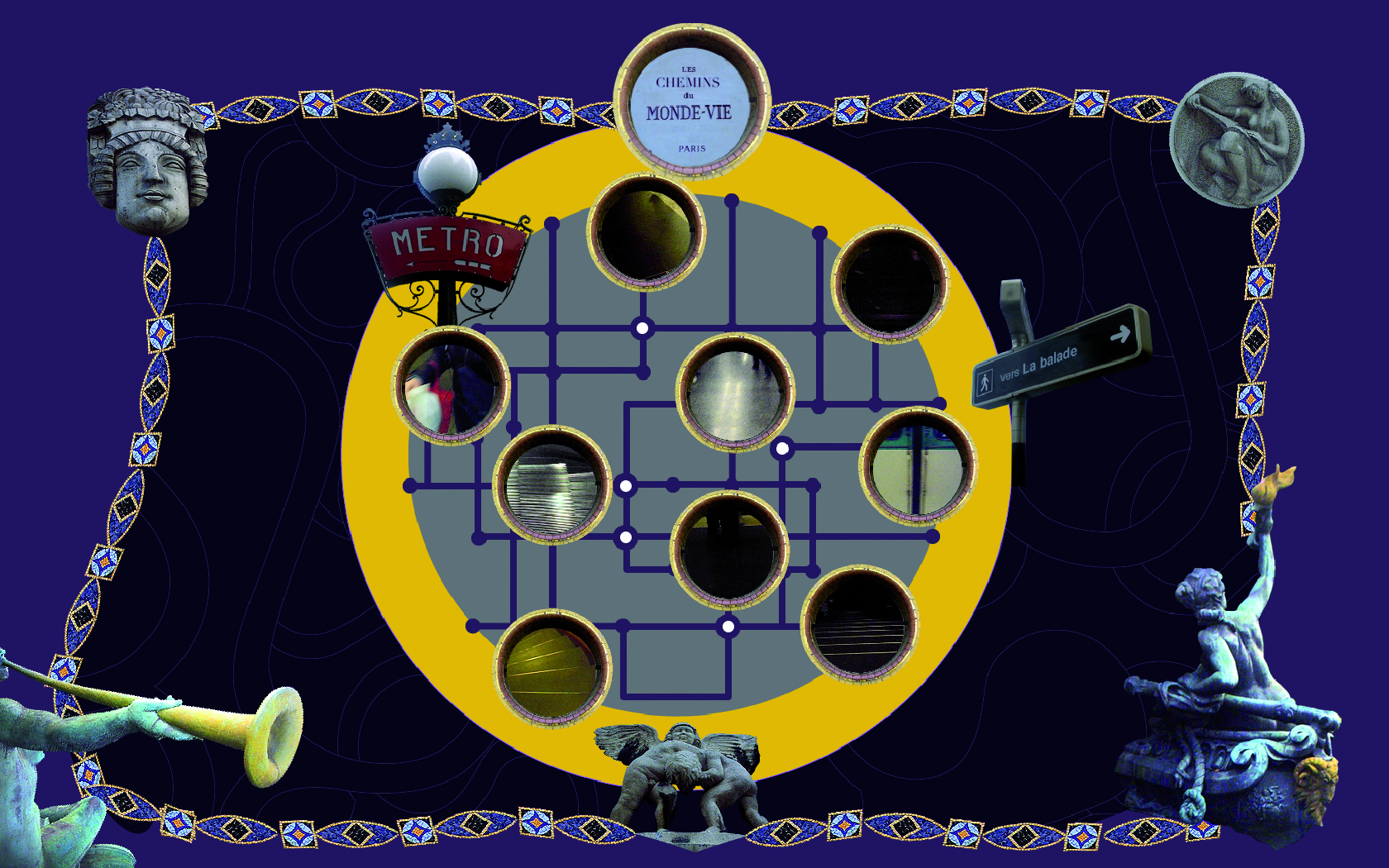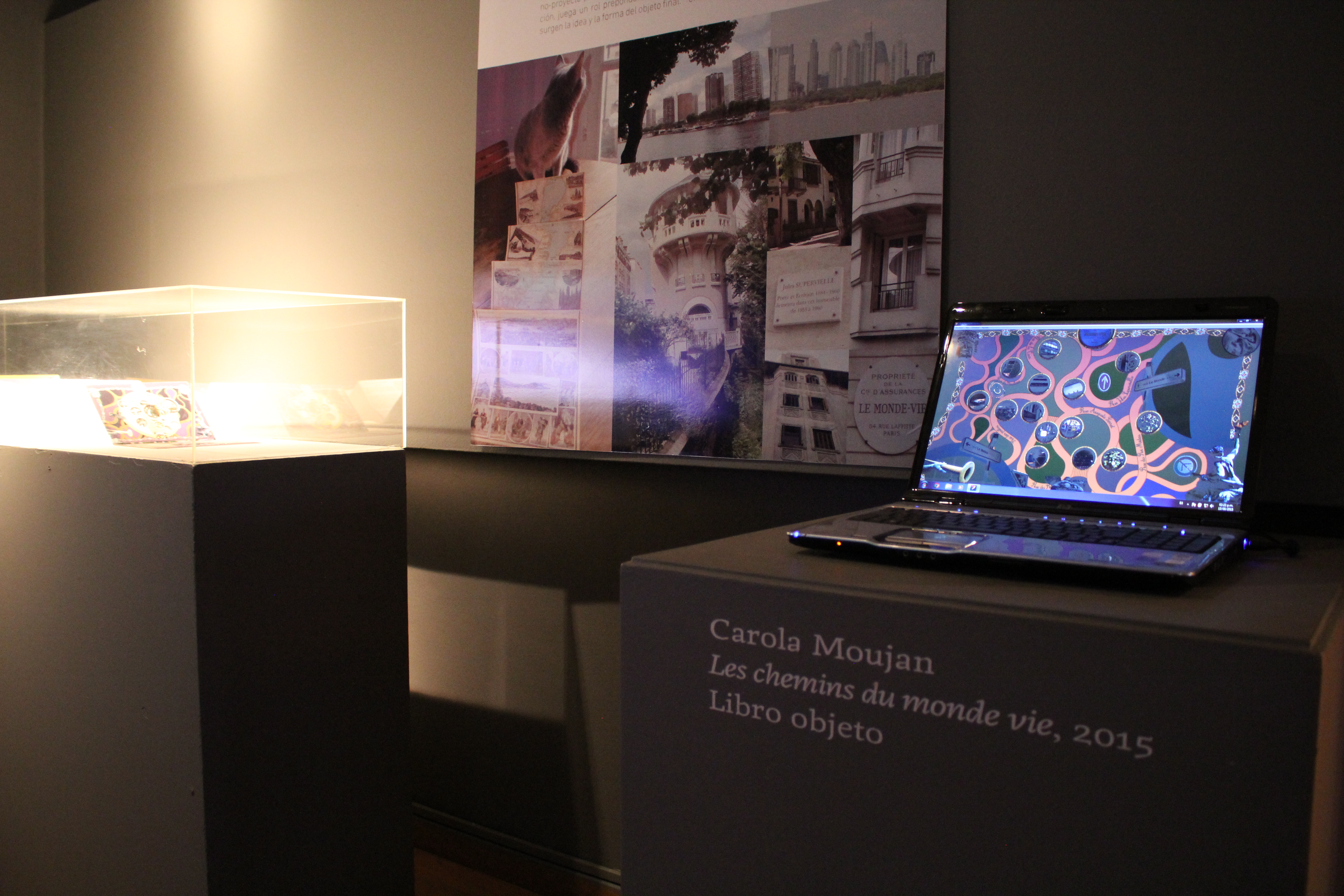 [EN]
Les chemins du Monde-Vie
is a hybrid artist book comprised of a folded printed sheet and an interactive map. The project is a personal attempt to escape Google's hegemonic view of urban space.
To build this project, I used a psychogeography-inspired experimental protocol. I gathered visual material without a precise idea of the final outcome. The only rule was that every interface element ought to come from the urban environment. As a result, a very strong visual continuity is established between the city, the book and the map.
A new iteration of the project happened in 2018 :
Gravitations
, an exhibition at the Museo Historico Cabildo in Montevideo
commisioned by the French Embassy in Uruguay.
Les Chemins du Monde-Vie
is presented in dialog with pieces from the museum's collection and poems from Montevideo-born French poet Jules Supervielle.
[FR]
Les chemins du Monde-Vie
est un livre d'artiste hybride composé d'un laporello et d'une carte interactive. Le projet est une tentative personnelle d'échapper à la vision hégémonique de Google sur l'espace urbain.
Pour réaliser ce projet, j'ai utilisé un protocole expérimental inspiré de la psychogéographie. J'ai rassemblé du matériel visuel sans idée précise du résultat final. La seule règle était que chaque élément d'interface devait provenir de l'environnement urbain. Une très forte continuité visuelle est ainsi créée entre la ville, le livre et la carte.
Une nouvelle itération du projet a eu lieu en 2018:
Gravitations
, exposition au Museo Historico Cabildo de Montevideo sur invitation de l'Ambassade de France en Uruguay.
Les Chemins du Monde-Vie
y est présenté en dialogue avec des pièces de la collection du musée, et des poèmes du poète Jules Supervielle, né à Montevideo.
[ES]
Les chemins du Monde-Vie
es un libro de artista híbrido compuesto de un laporello y de un mapa interactivo. El proyecto es un intento personal de escapar de la visión hegemónica del espacio urbano propuesta por Google.
Para llevar a cabo este proyecto utilicé un protocolo experimental inspirado en la psicogeografía. Reuní material visual sin una idea clara del resultado final. La única regla era que todos los elementos de la interfaz debían provenir del entorno urbano. Se crea así una continuidad visual muy fuerte entre la ciudad, el libro y el mapa.
Una nueva versión del proyecto tuvo lugar en 2018:
Gravitations
, exposición en el Museo Histórico Cabildo de Montevideo por invitación de la Embajada de Francia en Uruguay.
Les Chemins du Monde-Vie
se presenta en diálogo con piezas de la colección del museo y poemas del poeta francés Jules Supervielle, nacido en Montevideo.