Carola Moujan - Art, design & research
Luciole
2014-2019
A network of interactive public benches. Commission from Lyon Des!gn within the framework of Lyon City Design international Call for Projects 2015:
Steel, fiber optics, electronics.
Software and electronics by O-labs, Polytech Nantes and Letmeknow Metal work by Creametal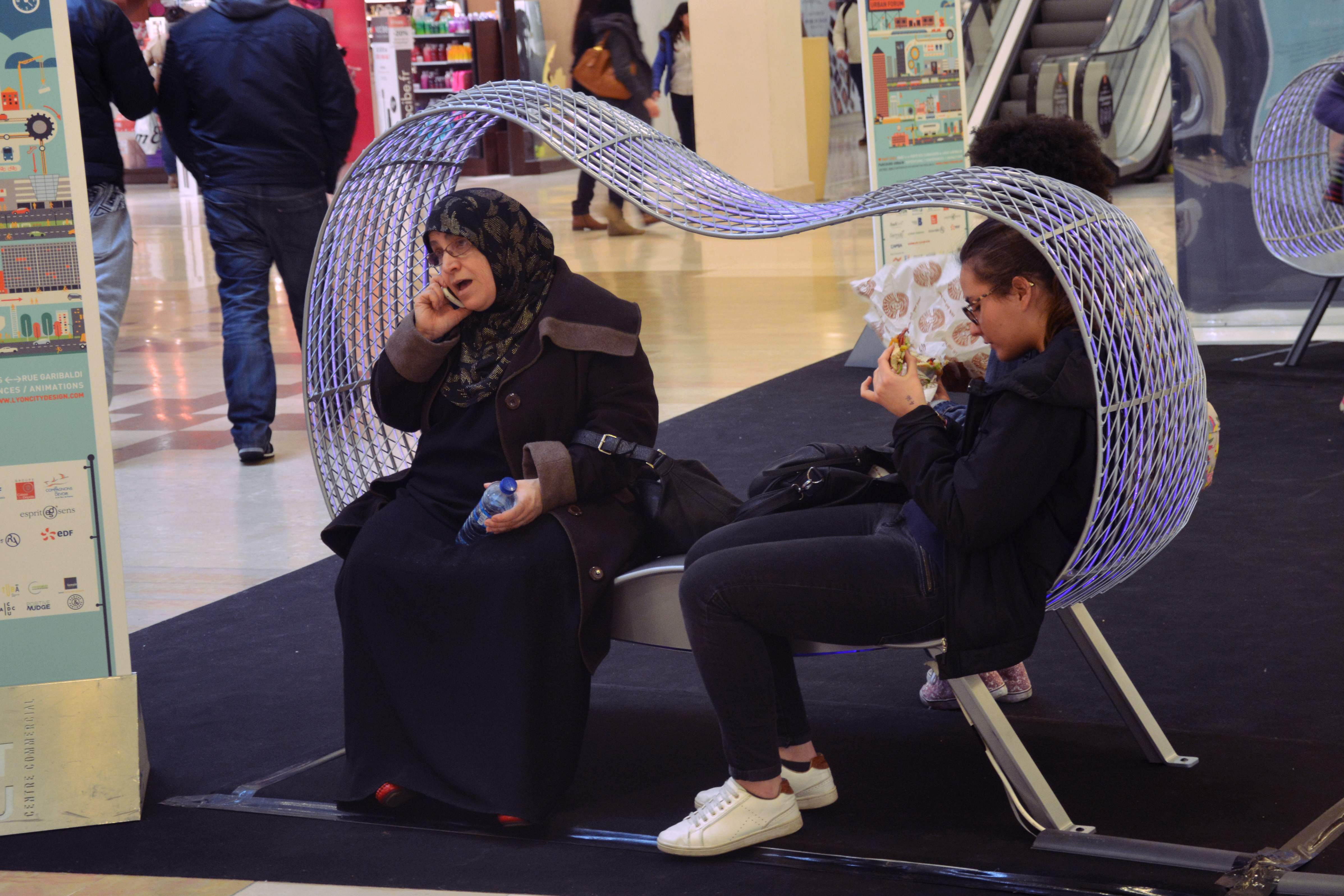 [EN]
Can we enjoy the benefits of the connected city without giving up the simple pleasure of "being there"? Such is the aim of
Luciole
, a network of sensitive, luminous connected benches.
Through its light modulations,
Luciole
announces the presence of people and the approach of transport without requiring direct attention. In the evening, it envelops users in a poetic and reassuring luminous cocoon.
Connected to each other, Luciole benches ennoble and secure degraded spaces, sublimate remarkable places. Connected to the internet, they make urban micro-climates perceptible, and help structure flows and mobility in the city.
[FR]
Peut-on profiter des avantages de la ville connectée sans renoncer au plaisir simple d'« être là » ? C'est ce que propose
Luciole
, réseau de bancs sensibles, lumineux et connectés.
Par ses modulations lumineuses,
Luciole
annonce la présence de personnes et l'approche des transports sans solliciter l'attention directe. Le soir, elle enveloppe les usagers d'un cocon lumineux poétique et rassurant.
Connectés entre eux, les bancs Luciole anoblissent et sécurisent les espaces dégradés, subliment les lieux remarquables. Connectés à internet, ils rendent perceptibles des micro-climats urbains, et contribuent à structurer les flux et la mobilité en ville.
[ES]
¿Es posible disfrutar de los beneficios de la ciudad conectada sin renunciar al placer simple de "estar allí"? Esto es lo que propone
Luciole
, red de bancos públicos interactivos, luminososy conectado.
A través de sus modulaciones luminosas, Luciole anuncia la presencia de personas y la llegada del transporte sin requerir atención directa. Por la noche, su luz envuelve a los usuarios en capullos luminosos poéticos y reconfortantes.
Conectados entre sí, los bancos Luciole ennoblecen y aseguran espacios degradados, subliman lugares notables. Conectados a Internet, hacen perceptibles los microclimas urbanos y ayudan a estructurar los flujos y la movilidad en la ciudad.