Carola Moujan - Art, design & research
nAutreville
2011-12
Augmented reality information panel.
Transparent screen, graphics, video, real time data.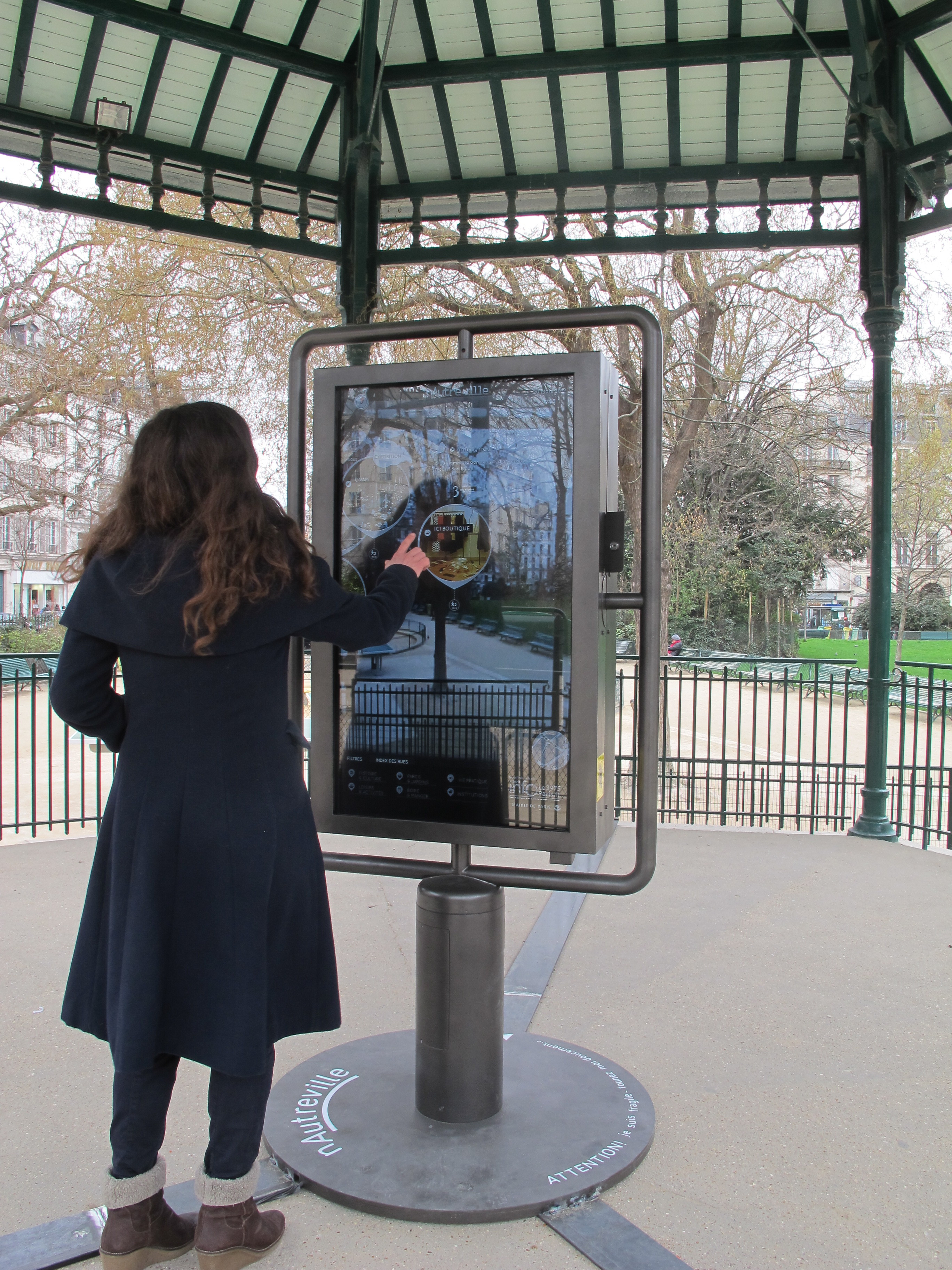 [EN]
Between september 2011 and march 2012, I worked on
nAutreville
, an augmented reality information prototype designed by Maria-Laura Méndez Martén and developed at Paris DesignLab / ENSCI- Les Ateliers.
nAutreville
was tested in real-life conditions in Paris in spring 2012, whithin the MUI program - a "smart street furniture" experimentation carried out by the city to understand future evolutions in the field.
My role in the project was, first, to contribute to the development of the concept by proposing research orientations that challenge common notions of "smart" objects and cities. Then, I worked on defining architecture information schemes, ux design and content strategies that could potentially enable novel user experiences.
Once an operational version was running, I did a follow-up and suggested improvements.
Watch the interview
I did for BFM Business TV (in french - 8 minutes)
[FR]
Entre septembre 2011 et mars 2012, j'ai travaillé sur
nAutreville
, un prototype de panneau d'information en réalité augmentée conçu par Maria-Laura Méndez Martén et développé à Paris DesignLab / ENSCI- Les Ateliers.
nAutreville
a été testé en conditions réelles au Square du Temple à Paris au printemps 2012, dans le cadre du programme MUI - une expérimentation de «mobilier urbain intelligent» menée par la ville de Paris pour comprendre les évolutions dans ce domaine.
Mon rôle dans le projet a été, dans un premier temps, de contribuer au développement du concept en proposant des orientations de recherche qui remettent en question les notions dominantes d'objets et villes «intelligents». Ensuite, j'ai travaillé sur la définition de schémas d'informations d'architecture, de conception ux et de stratégies de contenu. Une fois une version opérationnelle en marche, j'ai réalisé un suivi et proposé des améliorations.
Regarder
l'interview avec BFM Business TV (8 minutes)
[ES]
Entre septiembre de 2011 y marzo de 2012, trabajé en
nAutreville
, un prototipo de panel de información en realidad aumentada diseñado por Maria-Laura Méndez Martén y desarrollado en Paris DesignLab / ENSCI- Les Ateliers.
nAutreville
se expreimentó en condiciones reales en París en la primavera de 2012, dentro del programa MUI, una experimentación de "mobiliario urbano inteligente" llevada a cabo por la ciudad para comprender las futuras evoluciones y necesidades en este ámbito.
Mi papel en el proyecto fue, en primer lugar, contribuir al desarrollo del concepto proponiendo orientaciones de investigación que desafíaran las nociones comunes de objetos y ciudades "inteligentes". Luego, trabajé en la definición de esquemas de arquitectura de la información, diseño de experiencia de usuario y estrategias de contenido que ofrecieran experiencias de usuario novedosas.
Una vez que se ejecutó una versión operativa, hice un seguimiento y sugerí mejoras.
Mirar
la entrevista con BFM Business TV (en francés - 8 minutos)